Join us on Monday for a one (1) hour Webcast when we go over the SBA Paycheck Protection Program (PPP.) Watch us walk through the whole process and learn:
Whether you are eligible
What the funds can be used for
What forms are required
How the loan forgiveness works, and….
… get your questions answered so that you have all the information you need to apply.
Gerry Smith, Director of Business Development, MEDB and Wayne Wong, Director of the Hawaii Small Business Development Center (SBDC) will be joined by Kyle Sakamoto, Senior VP of Central Pacific Bank and MEDB Board Member to guide you through the process.
This webcast is the second of an ongoing series – the COVID-19 Business Assistance Series, sponsored by the County of Maui, aimed at helping our small businesses navigate the resources available to them, with clear step-by-step instructions.
No special software needed to view. You can watch and participate on your web browser on any device. We wanted to make sure it was easy for you to access this important information.
Monday April 6, 3:00 pm HST
https://www.crowdcast.io/e/guide-to-sba-paycheck
The Paycheck Protection Program provides small businesses with zero-fee loans of up to $10 million to cover payroll and other operating expenses. Up to 8 weeks of payroll, mortgage interest, rent, and utility costs can be forgiven. Payments on principal and interest are deferred for one year.
Gerry Smith, Director of Business Development, MEDB
An MBA Graduate with a Project Management Professional (PMP) Certification, Gerry Smith has been doing business in the Pacific since moving from the east coast to work as Finance Officer for the Marshall Islands Nuclear Claims Tribunal in 1990. He has nearly 15 years in Defense Contracting, most of that in Honolulu.
Gerry is currently the Director of Business Development for the Maui Economic Development Board.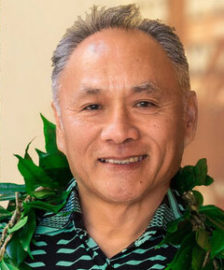 Wayne Wong, Director, SBDC
Wayne Wong is a recovering "technologist" with over 30 years of Information Technology experience including several senior management positions during the heyday of the "dot com" era. He is also a co-founder and co-producer of the Grammy Award winning live concert series "Masters of Hawaiian Slack Key Guitar". He currently utilizes his entrepreneur expertise as the Director of the Hawaii Small Business Development Center (SBDC), Maui Center, providing no-cost business counseling, advice and training to Maui County. Mr. Wong graduated from Kamehameha High Schools and holds a Bachelor of Science degree from the University of Washington and a Master of Business Administration degree from the University of Puget Sound.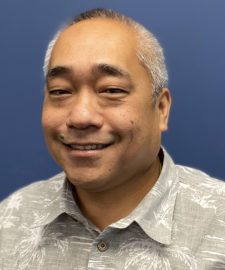 Kyle Sakamoto, Senior VP, Central Pacific Bank
Kyle Sakamoto has been a Commercial Banker for 27 years, He grew up on Maui and attended Baldwin High School before getting his BBA in finance at UH Manoa. He also graduated from the Pacific Coast Banking School – Graduate School of Banking. Kyle serves as a Board Member for MEDB, as well as Maui Adult Day Care Center where he also serves as Treasurer. He is also on the
Chancellor Advisory Committee of UH Maui College and is a small business owner himself – Rimfire Imports, Inc.