Do you need capital to grow your company and achieve success?
Come learn from experts in the venture capital industry about how to attract needed venture capital to expand and grow your business. The focus of discussion will be on Silicon Valley-style venture funds. You will gain insights into what venture funds expect in an investment; what motivates them internally and externally; how to secure a meeting with a venture fund; how to prepare for a meeting with a venture fund; and how to structure your company to attract venture capital.
Date
Thursday, September 24, 2015
Agenda
| | |
| --- | --- |
| 8:30 am – 9:00 am | Registration |
| 9:00 am – 11:00 am | Seminar |
| 11:00 am – 11:30 am | Lunch and Talk Story with Panel |
| 11:30 am – 1:00 pm | Sample Pitches and Comments by Panel |
| 1:00 pm – 1:15 pm | Closing and Survey |
What You Will Learn:
Why Should I Seek Venture Capital?
• What can venture capital do for me that angel investment cannot?
• What are other benefits of having a venture fund invest in my company?
• Are there alternatives to traditional venture capital that can get my company to the same place?
How Does Venture Capital Work?
• What is venture capital?
• How does it differ from angel investments?
• What are the pros and cons?
• How much funding do venture funds need to deploy in a first round investment?
• How does follow on funding work?
How Do I Raise Venture Capital?
• How do I select a venture capital fi rm?
• How do I know I'm getting a fair deal?
• How do I connect with venture funds?
• What type of presentation and materials are expected by a venture fund?
What Makes Venture Capital Tick?
• What are the goals of venture funds?
• What types of returns do their investors expect?
• How do venture funds manage their portfolios?
• What is their expected success rate?
• What type of business models can attract venture capital?
How Do I Prepare My Company For Venture Capital?
• How do I structure my company to attract venture capital?
• What other characteristics do venture capitalists look for in a company?
• How do I value my company?
• What are some other key terms in a venture capital negotiation?
How Does Hawaii Figure In?
• What are the pros and cons for Hawaii companies?
• Do Hawaii companies need to relocate to Silicon Valley in order to obtain venture capital?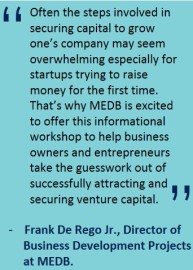 Location:
MEDB's Malcolm Center
1305 N. Holopono Street, Suite 5 in Kihei
Cost:
Admission is $20
Lunch will be provided
Reservation required
Space is limited
Speakers:
Warren Doi – Go-to-Market Track Lead at Energy Excelerator, a startup program dedicated to helping solve the world's energy challenges, starting in Hawaii. He has worked with AT&T, PG&E Energy Services, Hewlett-Packard, and Cisco Systems. Warren utilizes his experience to help entrepreneurs and their seed companies through early-stage development.
Donovan Kealoha – Co-founder of Adama Materials, Inc., a venture-capital backed materials science company. He is a Senior Associate at Startup Capital Ventures, and works alongside the fund's partners in all aspects of potential and active investments. Donavan also is a director with Shifted Energy, a licensed attorney, and holds a BA, PBCSE, and JD/MBA from the University of Hawaii at Manoa.
Gregory Kim – Partner at Convergent Law Group LLP, a Silicon Valley based firm focusing on technology companies. Greg concentrates his practice in the areas of corporate and securities law; and specializes in mergers and acquisitions, startups, venture capital, technology and licensing agreements. Greg is the Co-Founder and President of the Business Law Corps.
Padma Rao – A startup advisor, founder, and mentor, and an expert at driving growth for top consumer brands. She was founding CEO of Markkit, Head of Marketing at Zynga, and also worked at Gap, Sephora/LVMH and Netflix. She began her career at the Georgia Tech Research Institute, and at Calix Networks. Padma is on the Board of Julep, is an advisor to BullPen Capital and several startups, and works with mBloom BDC Advisory.
Bill Richardson – General partner of HMS Hawaii Management since 1994. He was the founding co-chair of University Connections, founder and current President of HiBEAM. He is the chairman for Pacific DirectConnect, Kona Bay Marine Resources, and Hawaii Biotech. Richardson currently serves as interim director for the University of Hawaii Office of Technology Transfer and Economic Development (OTTED).
Registration
Click here to register: https://hightechmaui.com/confregister/form-venturecapital.cfm