STEMworks™ Innovation Internships – Host Company Application Period Now Open!
The STEMworks™ Innovation Internship is a 6-week summer program that matches talented, local students with companies from a wide spectrum of industries across the state who are looking for STEM talent. Prior to the start of the internship program STEMworks students are trained in computer science, coding, creative media including film, photography, and graphics design, web site design, geospatial technologies (GIS), video game design, robotics, CAD software, 3D design and printing, agricultural technologies, chemistry, engineering, renewable energy technologies, healthcare, and more. The STEMworks team meets with each host company prior to the start of the internship program to learn about their problems, gaps, and needs. This allows us to cultivate a personalized 6-week summer internship project for each host that will have maximum impact for their operations. This relationship building time further ensures that we make the perfect intern match. This summer, the internship program will run from June 13 – July 25, 2022.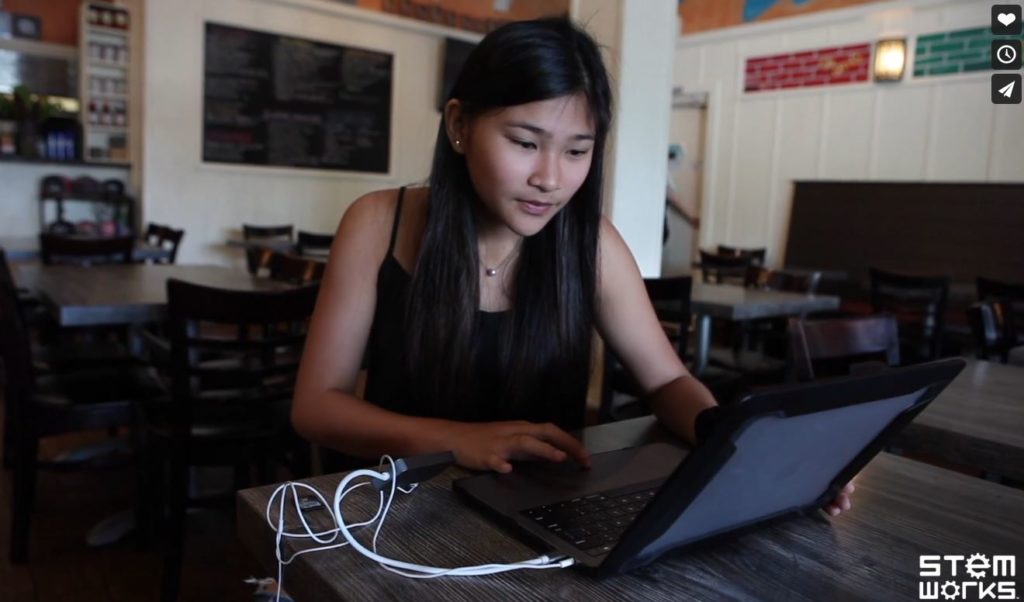 Do you have a STEM-based project that you want to complete, but lack the time, staff, or skills to get it done? Apply to host an intern now at: bit.ly/STEMworksHost2022. Host company applications are due by February 4.
Learn more about STEMworks Internships
STEMworks Ag Internships
The Fall 2021 STEMworks Ag Internship Program wrapped up with a virtual showcase on December 14th. 17 high school interns, from Maui and Molokai, showed off video presentations about everything they accomplished during their 10-week internship experience. Showcase video link: https://vimeo.com/656894783
We are now accepting applications for the Spring 2022 Ag Intern Program. The spring Ag internships run for 12 weeks from February 7 through May 1 and interns must work 15-20 hours a week. After successful completion of the internship, interns will earn a stipend of $1,600. The Spring interns can participate in internships in conventional and organic Ag operations learning about agribusiness, agritourism, hydroponics and aquaponics, processing, nursery operations, agricultural education and outreach, caring for livestock, traditional Hawaiian farming practices, agricultural mechanics and more. Internships are open to Maui County high school and undergraduate students. The deadline to apply is Friday, January 14. Application Link: http://bit.ly/2022SpringAgInternships
If you are interested in hosting interns during Summer 2022 or want to know more about the program, please contact Britney James britney@medb.org or you can visit our website: https://www.stemworkshawaii.org/aginternships
"It helped me understand what agriculture really is. When I first heard agriculture, I thought planting and harvesting. This experience taught me that there's a whole lot more to it."

SeQuoia Warren, Baldwin High School student, Fall 2021 intern at Fairyland Farm and Forest