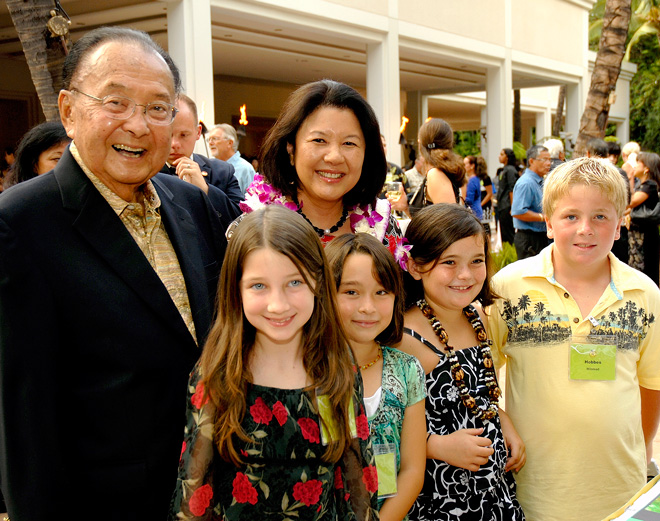 Maui Economic Development Board (MEDB) is proud to offer the Daniel K. Inouye Innovation Award. This annual award will be presented to a Maui County project team that demonstrates the most innovative use of Science, Technology, Engineering and Math (STEM) tools and capabilities to serve and improve our community.
In 2013, MEDB, with the endorsement of Irene Hirano Inouye, established the Daniel K. Inouye Innovation Award to honor the late Senator's vision for Maui as an innovation center for the latest scientific and technological advances.
For a list of past Daniel K. Inouye Award winners, click here.
Award guidelines:
The Award will be presented to the winning team in the form of a MEDB Ke Alahele Education Fund financial grant.
The Award is open to all Maui County students grades 6-12. High school seniors graduating in June 2017 are also eligible to apply.
Applicants must demonstrate the best combination of technology with service learning for the benefit of Maui Nui.
This is an innovation award so students are encouraged to submit a project that is "outside the box" but still has a practical function and value to the community.
STEMworks™ students are encouraged to apply, but applicants need not be in a STEMworks™ lab to be considered.
The winning project will be recognized during a formal ceremony during the annual MEDB Ke Alahele Education Fund Dinner and Auction on Saturday, August 26, 2017.
How to apply:
Each team must complete and submit an official Daniel K. Inouye Innovation Award
Applications must be submitted in PDF format to MEDB.
Relevant supplementary project materials and photos may be submitted with the application.
Applications must be received by MEDB no later than August 11, 2017.
Submit applications to Lalaine Pasion at lalaine@medb.org.
For information and/or questions, please contact:
Maui Economic Development Board
1305 North Holopono, Suite 1
Kihei, HI 96753
lalaine@medb.org
(808) 875-2300