Are you an Innovator, Entrepreneur, Researcher, or Small technology firm? Thinking of starting a business with your exciting technology idea? Are you a researcher looking to commercialize your idea?

Join us June 30th at 12:00 pm (HST) for an overview of the SBIR program.
SBIR/STTR's are a great opportunity to obtain funding, up to $250,000, to kickstart your business! The Small Business Innovation Research (SBIR) and Small Business Technology Transfer (STTR) programs are federally funded, award based grant programs to encourage, enable and fund small business to perform high risk or novel R&D, in the spirit of commercializing their inventions.
Learn: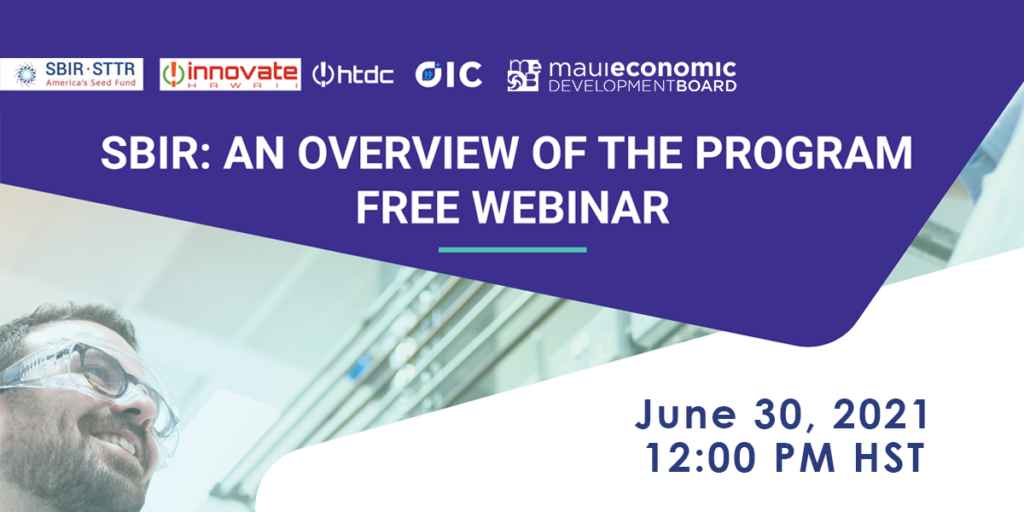 How to search for SBIR/STTR opportunities
If your technology or research is suitable for an SBIR/STTR program
How to gauge commercial or programmatic interest
and more!
Everyone with a business or a technology idea is welcome! This free webinar is brought to you jointly by the UH Office of Innovation and Commercialization (OIC), the Hawaii Technology Development Corporation (HTDC) Innovate Hawaii, Maui Economic Development Board, and Denise McKenzie of OIC.  

2021 National SBIR Week July 19-23
National SBIR Week is a virtual, collaborative outreach effort connecting entrepreneurs working on advanced technologies and the organizations that support them to the country's largest source of early stage funding – the SBIR/STTR programs. Also known as America's Seed Fund, the SBIR/STTR programs provide over $4 billion in funding to small businesses each year in a wide variety of technology areas.

The 2021 National SBIR Week will provide attendees with an opportunity to hear directly from the participating federal agency program managers that administer over 7,000 new awards annually and to meet virtually one-on-one with program decision makers.  Register at https://www.sbirroadtour.com/

You can sign up for the 2021 National SBIR Week today and Reserve Times for One-on-One meetings with program managers at the SBIR/STTR agencies (USDA, NFS, NASA, Air Force, Navy, etc.).  The key to getting starting for an SBIR grant, is meeting with the individual program managers and learning their specific target technologies and their unique requirements for future research.
SAVE THE DATES
The second in this series is on Wednesday, July 7, 12:00 Noon with Denise McKenzie, "Is SBIR a good fit?  Finding the right topic and Finding the right team."

Plan on learning more with our Future Seminars:

Friday, July 9, Noon – Denise McKenzie; SBIR Proposal
                -Proposal Preparation Schedule
                -Proposal Evaluation Criteria
Monday, July 12, Noon – Denise McKenzie; Innovation & Commercialization

Wednesday, July 14th – TBC

Friday, July 16th –  TBC