MEDB's Innovation Series helps build foundations for business success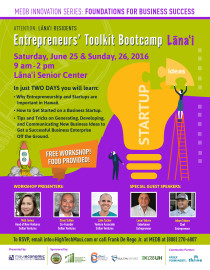 KIHEI, Maui, Hawaii – June 1, 2016 – Lanai residents interested in starting a business or renewing their existing one are encouraged to attend a FREE two-day workshop, "Entrepreneurs' Toolkit Bootcamp," on June 25 and 26. Presented by Maui Economic Development Board (MEDB) as part of their Innovation Series, the two-day workshop will be held at the Lanai Senior Center from 9 am to 2 pm each day. Food will also be provided for attendees.
In just two days, attendees will learn:
Why entrepreneurship and startups are important in Hawaii
How to get started on a business startup
Tips and tricks on generating, developing, and communicating new business ideas to get a successful business enterprise off the ground.
The workshop will be led by experienced entrepreneurs:
Meli James – Head of New Ventures at Sultan Ventures, Program Director at XLR8UH and President of the Hawaii Venture Capital Association. Recently recognized by Entrepreneur Magazine as one of 5 Women to Watch in 2016.
Omar Sultan – Co-Founder/Managing Partner of Sultan Ventures and XLR8UH, the University of Hawaii's award-winning venture accelerator.
Luke Tucker – Venture Associate of Sultan Ventures and Entrepreneur in Residence at XLR8UH.
Special guests speakers will be:
Lanai Tabura – Lanai native, entrepreneur, and 25-year radio veteran, DJ, comedian, and actor
Adam Tabura – Lanai native, Chef and entrepreneur
"Creating a new business from the ground up or revamping your existing business can be overwhelming," said Frank De Rego Jr., Director of Business Development Projects at MEDB. "This workshop is open to anyone interested in learning the basics of entrepreneurship whether you aim to create a brand new startup or have been in business for years. It starts with the fundamentals and will teach Lanai's entrepreneurs the processes, tools, and best practices that will build a solid foundation for success in their business ventures."
Advanced reservations are required, space is limited. For more information and to RSVP, email info@HighTechMaui.com or call MEDB's Frank De Rego Jr. at (808) 270-6807.
The workshop is sponsored by the County of Maui Mayor's Office of Economic Development, Lanai Chamber of Commerce, Sultan Ventures, XLR8UH, and Kaiser Permanente.