Ke Alahele Education Dinner Draws 660 Supporters, Raises $300,000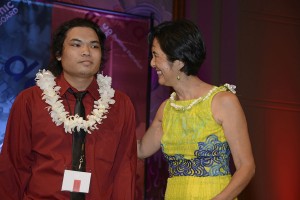 King Kekaulike High School graduate AJ Ramelb was selected for the second annual Daniel K. Inouye Innovation Award Saturday night. The honor included a $3,000 cash award for his college education and $7,000 for his alma mater's STEMworks™ lab.
Maui Economic Development Board presented the award to Ramelb, 17, of Pukalani, at Saturday's MEDB Ke Alahele Education Fund Dinner and Auction at the Grand Wailea Resort. The event drew 660 people, including educators, students, government, business and community leaders keen on supporting STEM education.
AJ was surprised to hear he had been chosen from a field of finalists vying for the award created to commemorate Inouye's legacy by recognizing an exceptional student led project that applies science, technology, engineering and math solutions to improve their community.
When MEDB President and Chief Executive Officer Jeanne Skog observed, on stage, that Ramelb appeared "totally stunned," she asked him how he felt "Good," he said. "I just kind of showed up today. Wow."
Ramelb's award recognizes his persistent effort to design a solution that makes easier for King Kekaulike's special needs students to grip paintbrushes. Using 3D Computer Aided Design, Ramelb created a "brass knuckle" design for students who are challenged with holding a paintbrush, even with assistance. Ramelb's design has led to the production of four grips for students with severe disabilities.
After telling Ramelb about his cash award, MEDB Education Committee Chairman Ryan Churchill announced that MEDB planned to assist Ramelb with applying for a U.S. patent for the design. "I'm very excited to get MEDB's help," Ramelb said. "I don't think I could get the patent on my own. I don't think I could do any of this without the help of my teacher, Emily Haines, and the STEMworks™ lab."
MEDB Vice President Leslie Wilkins explained that the premise of MEDB STEMworks™ program is service learning with high-technology tools and software. STEMworks™ on Maui is funded in part by the U.S. Departments of Labor and Education, the Office of Naval Research and private donors.
Ramelb worked out of Kekaulike's STEMworks™ lab, using SolidWorks 2012 and Z-Print to construct the paintbrush tool with the 3D printer. "Teachers were ecstatic, and students loved the grip and are now able to make breakthroughs in expressing themselves through art," Wilkins said.
"It shocked me," Ramelb said as he recalled seeing the students use the 3D grip for the first time.
"I couldn't believe I made something that worked and it could change their lives. It was a 'wow' moment."
King Kekaulike High School students also received the inaugural Daniel K. Inouye Award in 2013. Using their know-how of GPS technology and the practical applications of math and science, Lotus Chen and Sierra Harrell mapped out the roads leading to and from their school campus. Their work led to development of a geospatial map and to government funding for sidewalk and roadway improvements near their school.
Ramelb, Chen and Harrell were all students of Kekaulike STEM teacher Emily Haines. "I'm proud of all of them," Haines said. This year, there are approximately 60 students enrolled in STEM courses at Kekaulike. The school's STEM Club has about 35 members.
"Emily is great with how she works with the students and empowers them. The kids really take ownership of what they do," said Sadie Mossman, who attended the Ke Alahele dinner and has had a perfect attendance at MEDB STEM conferences for the last five years.
Special Education teacher Hillary Watt said she was impressed at Ramelb's dedication to helping her students. "He really stuck to it, and I'm really glad he did," Watt said.
Ramelb is the son of Kathi Kamalani of Pukalani and is now enrolled at the University of Hawaii Maui College. He hasn't declared a major but he says he does see a future in technology and computers. "I'd encourage all students to take STEM. It's the most open ended class you can take and it really changes your thoughts and opens up your mind to possibilities."
Proceeds will be used by MEDB to fund grants for Science, Technology, Engineering and Math programs in Maui County, and to implement MEDB educational initiatives.
The Maui Economic Development Board is a 501(c)(3) not-for-profit corporation established in 1982 with a focus on diversifying Hawaii's economy. MEDB partners with the private, public and nonprofit sectors at the local and national levels to achieve its goals. MEDB's programs — which are founded on a respect for Hawaii's culture and precious environment — assist growth industries, educate and train residents for new career pathways, and build consensus in addressing the community's challenges and opportunities.
MEDB is governed by a 35-member Board of Directors drawn from business, government, academia and nonprofit organizations. For more information, call 875-2300, or visit medb.org.