After three years of virtual streaming, the Hawaii Energy Conference (HEC) is returning to the Maui Arts and Cultural Center May 24-25, 2023 for an in-person gathering. Celebrating its 10th anniversary, the conference is presented by the Maui Economic Development Board (MEDB) and will feature a mix of keynote speakers, panel discussions, case studies and an exhibit hall.
There is so much to talk about when we meet in person again, both the formal panel discussions and all the informal 'talk story' conversations that occur away from the stage and during the breaks," said Doug McLeod of DKK Energy Services and a lead member of the HEC Program Committee. "It was good that we could continue to have some dialogue while meeting virtually but we all know the conversation is more lively in person."
"The survey results we get always emphasize networking as an important feature of the Hawaii Energy Conference and important connections can build from a chance meeting during a break."
The Hawaii Energy Conference (HEC) brings together experts on energy policy, strategies, leadership and innovation. Energy leaders from Hawaii, the Continental U.S., Asia-Pacific, and more exchange ideas on how to better serve our communities in today's rapidly changing power generation and delivery environment.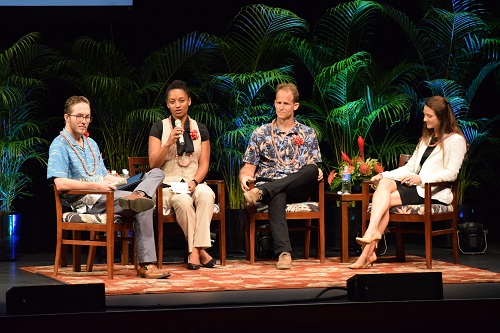 The first conference was held in 2014 to explore the challenges and opportunities in our nation's transition from fossil fuels to renewable energy. Since its launch, the conference has almost doubled in size. It has covered topics including the future of electric utilities, Hawaii's goal of becoming 100% renewable by 2045, decarbonization, and innovation in the industry.
The 2023 program committee have identified key topics for discussion at this year's conference including:
Is getting to 100 % Renewables still desirable, still doable, still worth the price?
How can we get clean energy projects permitted, interconnected, and operational in a reasonable period of time?
What is the next step in our efforts toward decarbonized energy, and what role does hydrogen play?
What are the energy related priorities of the Hawai'i Legislature and the Governor?
What is Energy Equity and how do we achieve it in the pursuit of state energy goals such as 100% renewables and net-zero greenhouse gas emissions?
Energy companies will enjoy being back in-person at the MACC with the opportunity to showcase their products and services in the Exhibit Hall. The networking sessions are social and high-energy. "It's much easier, and more fun, to attract someone to your exhibit booth at a live event," says Sandy Ryan, HEC Conference Director. "Attendees are more attentive and committed to participating fully in the conference than they are in a virtual environment."
Registration is now open with early bird rates available until March 31. Learn more at https://hawaiienergyconference.com