45 entrepreneurs attended Maui TechOhana on Thursday February 2 to hear about the "Future of Work." Gathering in-person for the first time in three years, the event featured Maui-based guest speaker, Jen Chiu, who has worked on a Design Led innovation team at Google.
Maui TechOhana, presented by Maui Economic Development Board (MEDB), with support by the County of Maui, provides an opportunity for participants to network with peers and to learn key lessons for their tech and/or small business careers.
Chiu led a highly interactive and informative discussion on the use of new technologies including virtual reality, avatars and AI. She talked story on her winding career path to and in tech. Coming from a management consulting, UX strategy & planning, product, creative and entrepreneurial background she has led cross functional teams across tech, start-ups, media and non-profits such as Facebook, HBO, The Bill & Melinda Gates Foundation and government organizations.
Chiu asked some questions to provoke thought including "Is the future of work a dystopian world where users only interact through VR and AR technologies, OR, do new opportunities foster connection and enhance work?"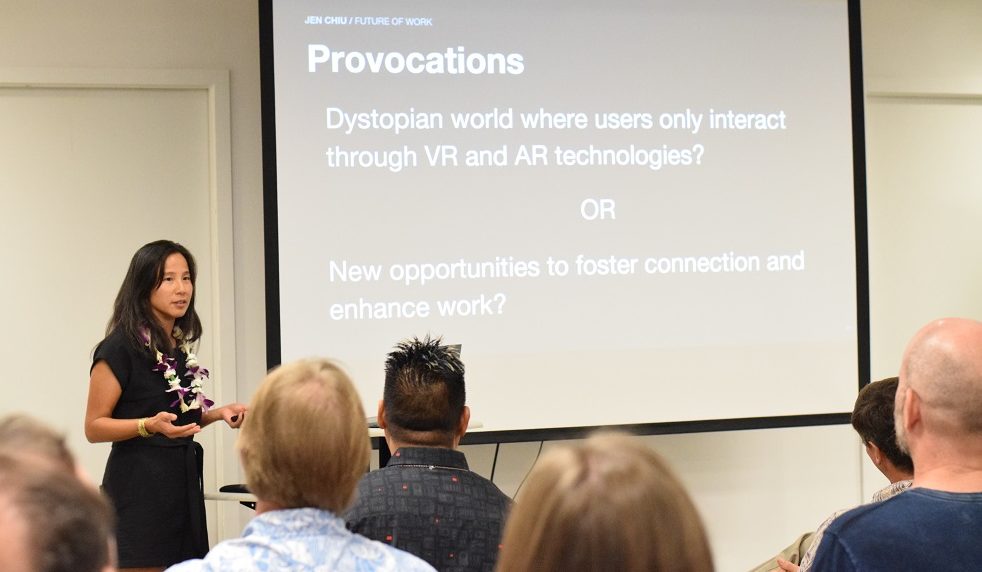 The discussion included a look at generational differences and the influence of Millennials (born 1980-1994) and GenZ (born 1995-2012) on the workforce. As a segue into the discussion, Chiu challenged the audience, "As GenZ dominates the workforce, will everything stay status quo, OR will they change how work gets done?"
"It's important to understand the different traits of these generations and how they work," said Chiu, citing that they will soon be our bosses and political leaders.
"We are grateful to having someone like Jen here on Maui to share her time and expertise with the community and to offer an inside look at some of these big tech companies," said Annette Lynch, Program Manager with MEDB. "The audience added fuel to the discussion with their own experiences and questions about avatars, Chat GPT and more."
"It was great to meet people in person after three years," said Bogdan Udrea, founder of VisSidus Technologies, Inc. "Future of work was very interesting in general and the details were challenging and engaging. Thank you for restarting Maui TechOhana. We are looking forward to future ones."
"(It was) great, enjoyed the presentation and liked how the audience was involved," added Ty Clark who realized that "Change is happening."
With the free tickets sold-out in advance, a further 29 guests tuned in via the zoom livestream. MEDB hosts three to four Maui TechOhana networking events per year with a short presentation on a relevant topic in business or technology.