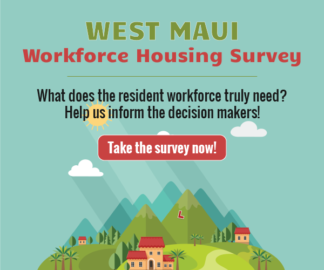 West Maui residents, employers, and employees are invited to participate in a community survey aimed at tackling affordable housing in West Maui. The West Maui Workforce Housing Survey is a grassroots, community-driven survey designed to determine the need for housing in West Maui from "the bottom up" as opposed to "top down". Shaped by an informal working group of West Side HR directors and employers and further developed by Maui Economic Development Board (MEDB), the West Maui Workforce Housing Survey is a first step to defining the need through data provided by residents. The exercise will better inform the local community, policymakers, and real estate development companies about the demand for affordable housing.
Across Maui County, as elsewhere in the state and nationally, affordable housing is a critical issue as supply fails to keep up with demand. Recent studies have shown that it is an issue that represents a major constraint on economic development, and as the Maui County General Plan states, "When adequate or appropriate housing is unattainable to a large portion of the population, it negatively impacts the entire community and decreases overall quality of life."
With the support of Maui County Council Members, the Department of Housing and Human Concerns, and the Maui Hotel and Lodging Association, the survey's quantitative results will be made available to the public and will be presented as a tool for Maui's community and county leaders to aid discussions and decisions on the issue of workforce housing. Participation in this survey is voluntary and anonymous.
The West Maui Workforce Housing Survey is presented by the Maui Economic Development Board, a 501(c)(3) nonprofit corporation dedicated to leading and inspiring innovation in business, education, and our community. We envision lives fulfilled in a vibrant economy and we serve as a convener of community voices.
For more information on Maui's affordable housing crisis, how to participate in the survey, and other details, visit:
https://www.medb.org/WMsurvey/
. Questions can be sent to WMsurvey@medb.org.