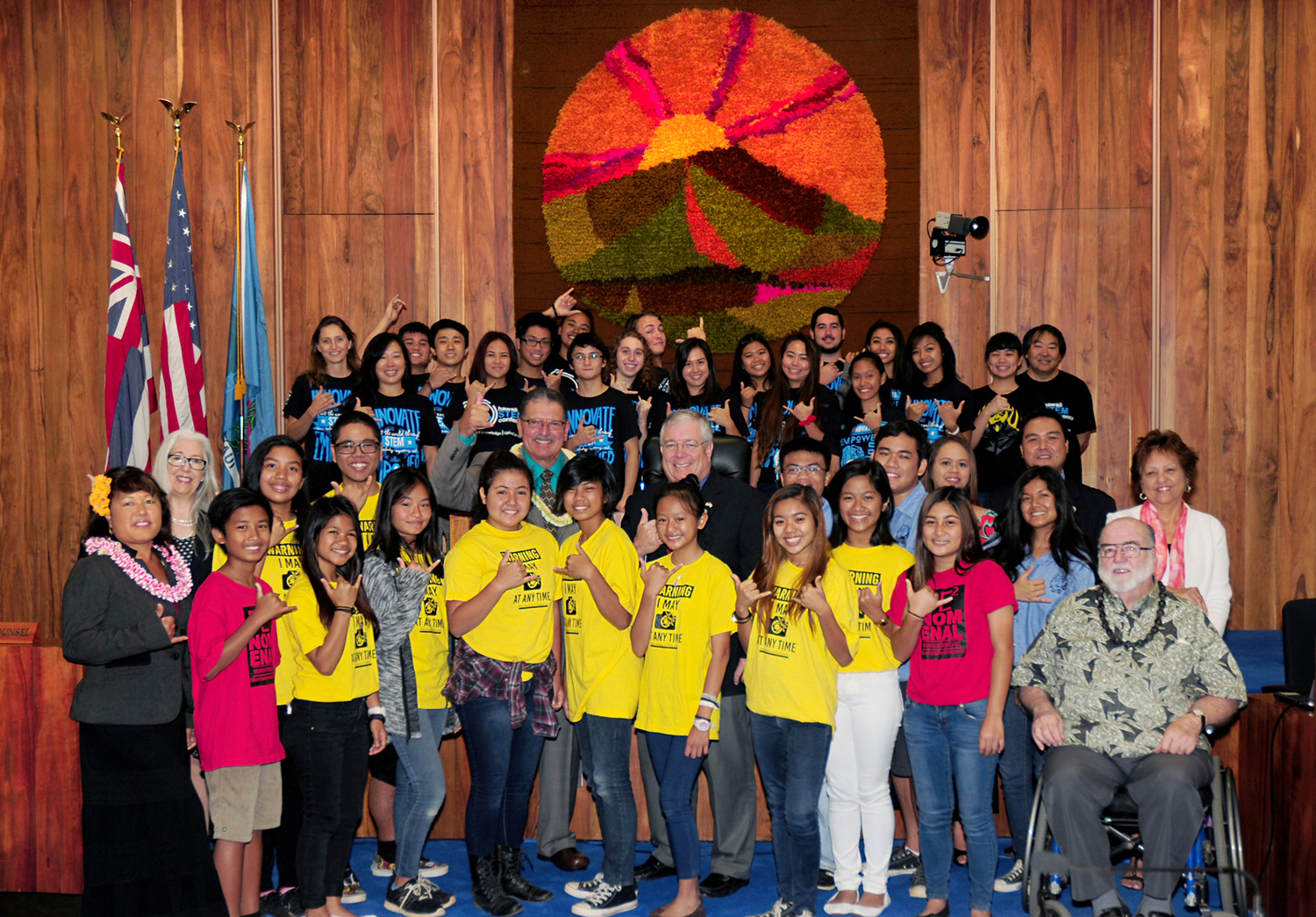 KIHEI, Maui, Hawaii – April 18, 2016 – It's official! The Maui County Council has proclaimed the week of May 2nd "Hawaii STEM Education Week," in recognition of the 7th Annual Hawaii STEM Conference which will take place on the island of Maui on May 6 and 7.
 
Held at the Wailea Marriott Resort, the Hawaii STEM Conference empowers students and educators with first-hand exposure to advanced technologies, the latest software training, and real world challenges in the form of fun, hands-on STEM team competitions. This year, 500+ STEM/service learning students and educators representing 45 intermediate and high schools across the islands and industry professionals, offering some of the most innovative global technologies, are expected to attend.
 
The Conference is sponsored by MEDB's Women in Technology (WIT) project in partnership with the County of Maui.
 
This year's conference theme is "download knowledge, upload service" which emphasizes the role the Conference plays in promoting and developing the skills of students to become innovative thinkers. The two-day event will feature 43 student breakout sessions, 17 teacher professional development breakout sessions, 14 software competitions, a formal awards banquet, and STEM exhibit presentations. The event will also feature keynote speakers:
 
Teresa Nededog, Web Developer for Enhance Digital, will be Friday's keynote. As a software engineer she runs a site for the empowerment of women in tech and does public speaking to encourage women to pursue STEM careers. Currently, she is creating a role-playing game using python.
Scot Refsland, Ph.D., Founder & CEO of RotorSports, will be Saturday's keynote. His new company is focused on the intersection of drone sport and STEM education. He will present the first World Drones Competition on the Oahu this October 17-22
 
Innovative agenda. Impactful learning.
 
Kicking off the event on Friday, a timed, high-energy mixer – the 5 x 5 Sessions – will give students the opportunity to engage 5 different STEM industry professionals in a "speed networking" format to learn about STEM career pathways, personal experiences and insights.
 
During the Conference, hands-on student sessions will be offered by education teams and industry experts from Microsoft, NASA, Boeing Co., DevLeague LLC, Air Force Research Laboratory, UH Hilo, UH Manoa­, UH Maui College, Mount Mercy University (Explore U), Goma Games, 3D Innovations Academy, Delta Education/FOSS, Scot Refsland, Maui Economic Development Board, Jess Cole Films, Elemental Minds, Hawaii State Department of Land & Natural Resources Aquatic Division, Monsanto, Maui Electric Company, HouseMart/Ben Franklin Crafts, OnStage Maui, and representatives from Nanakuli-Waianae Complex Area, Lahainaluna High School, King Kekaulike High School, Maui High School, Momilani Elementary, Iolani School.
 
There will also be professional development sessions designed just for teachers to motivate and increase STEM learning in the classroom.
 
we will host a number of student-centered competitions before and during the Hawaii STEM Conference.A number of student-centered competitions before and during the Conference will also be held ranging from CAD and game design to video, GIS and Cybersecurity competitions.
 
The Power of STEM
 
In 1999, MEDB created the WIT project to work in partnership with educators and businesses to build and strengthen Hawaii's STEM education-to-workforce pipeline. Today, WIT has been at the forefront of inspiring and providing cutting-edge STEM education across the islands and impactful events such as the Hawaii STEM Conference to meet those 21st century workforce demands.
 
"STEM education has the power to impact all of us," said Isla Young, MEDB's K12 STEM Program Director. "Through the years, we've seen first-hand how empowering our youth with STEM skills and opportunities can make a difference in their lives and in the career pathways they choose to pursue."
 
"Through MEDB's STEMworks program, I've been able to strengthen my love for computer programming," said Jeremy Amato, a 12th grader at King Kekaulike High School. "STEMworks has allowed me to apply my skills to real-world jobs and even use it to help my community. Now I'm looking at pursuing computer programming as my career choice."
"What I enjoy most from the Hawaii Maui STEM Conference is the opportunity to meet new people and all the educational classes and equipment that we get to use," said Drew Underwood, a 12th grader from Baldwin High School. "The atmosphere is exciting and everyone there is prepared to learn."
"By empowering our youth with STEM skills, tools, and opportunities we can equip and inspire our next generation of innovators thus ensuring a bright future for our community and our world."
 
For more information on the 2016 Hawaii STEM Conference, visit http://womenintech.com/HawaiiSTEMConference or contact MEDB's K12 STEM Program Director Isla Young at isla@medb.org or 808-250-2888.