The 5th annual EMER-GEN® Program, presented by the Maui Economic Development Board (MEDB) on September 25-27 at the Wailea Beach Resort-Marriott, was designed especially for young professionals and students enthusiastic about careers in space. A joint initiative of the Advanced Maui Optical and Space Surveillance Technologies Conference (AMOS) and the Space Generation Advisory Council (SGAC), the program was in-person with a series of pre-event webinars to help nurture the next generation of space leaders.
The main two-day EMER-GEN program featured sessions in Celestial Navigation, Space Traffic Management (STM), Mentoring, Consensus Building, and the Hackathon. Working in teams, participants were challenged to find innovative ways to apply space-based technologies to advance the future of the space industry.
"MEDB was honored to provide a venue for dialogue among the 47 young professionals who joined the 2022 EMER-GEN cohort," said Leslie Wilkins, MEDB President and CEO. "This experience continues to provide pathways into future careers. With the help of advisors from industry, government, academia and NGOs, the EMER-GEN program offered the experience of mentoring with renowned space specialists, networking with other young professionals, technical short courses presented by specialists in SSA, and professional development sessions to enhance the effectiveness of the cohort in a global business environment."

Annette Lynch, MEDB Program Manager added, "This year's EMER-GEN program welcomed nineteen young space professionals from Hawaii, and the rest came from all over, as far away as India. Scholarships were available for Hawaii residents as the program also looks to help build the Hawaii aerospace sector."
Four young professionals on the planning committee helped the MEDB organizers shape the program. Two representatives nominated by SGAC, Rishin Aggarwal, Indian Space Research Organization, and Eniko Molnar, Satellite Applications Catapult (UK), were joined by 2021 alumnus Zachary Stein of The Boeing Company, a resident of Maui. Quentin Verspieren of the University of Tokyo, returned to the committee for the third year to provide his experience and knowledge of space policy and consensus building.
The program included an interactive presentation on Celestial Navigation by Kala Baybayan Tanaka. Responsible for Education Direction and Program Implementation at Hui O Wa'a Kaulua, Tanaka introduced the EMER-GEN cohort to the Hawaiian star compass and other aspects of Hawaiian culture which pertain to leadership and communication.
Tanaka explained, "I shared Hawaiian lore, explored traditional navigational techniques and provided an intimate look at the relationship between the celestial bodies and history. In 2017, as captain and co-navigator alongside my father on the Hikianalia, I learned so much while sailing from Hawaii to Tahiti, thousands of miles, without modern instruments. I wanted to share my passion for wayfinding and told the cohort stories of the stars that have led my way forward, and always guided my way home."
Michael Mori, Hawaii Space Flight Laboratory, reflected, "The Celestial Navigation session put light on what Hawaiian culture is for aerospace. It was interesting because doing the hands-on exercise showed us that we need to learn the basics of navigation to survive wherever we are. There was a defining moment of unity that came forth from a lesson about a specific culture."
Other sessions included an overview of Space and Space Traffic Management by Doug Loverro, Loverro Consulting, LLC and former Deputy Assistant Secretary of Defense for Space Policy; a Consensus Building session on developing space policy on reducing space threats; mentoring; technical short course; and a hackathon.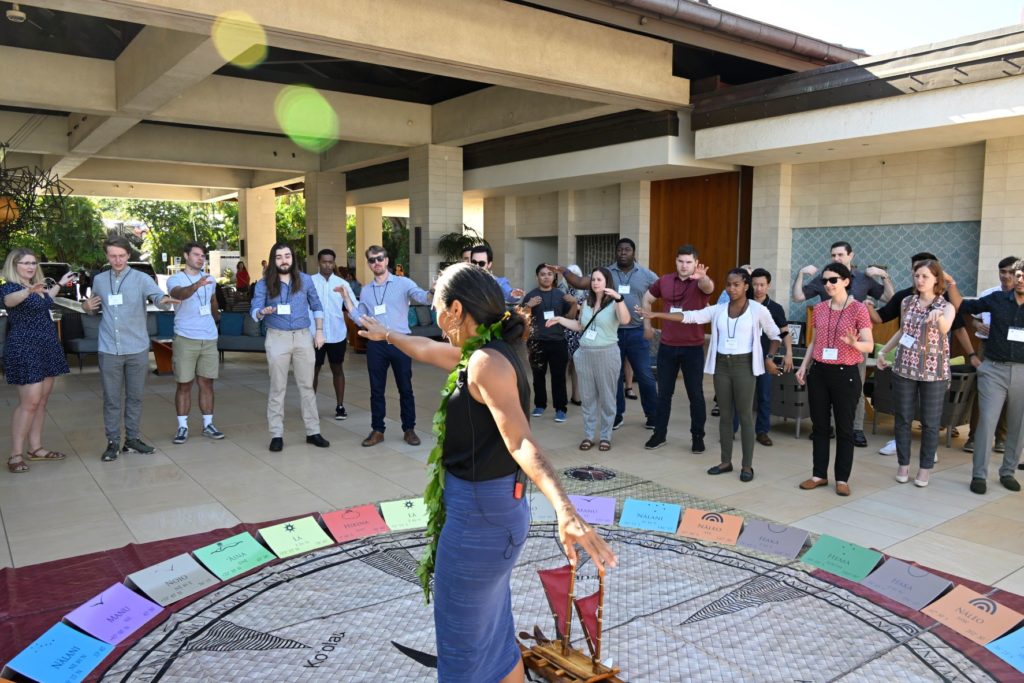 In the mentoring, fourteen renowned space specialists from a variety of fields offered the cohort advice on educational opportunities and key programs to help advance their future careers, goals and milestones.
Paolo Espejo, Robotics Space Exploration Laboratory, said, "The mentors were inspiring. This is truly a unique opportunity for younger people to come here and learn and have the chance to speak to mentors face-to-face. This is something many people might never have the chance to do."
The hackathon challenge was designed to encourage innovation and to help delegates understand the process of developing a space-related commercial product or service, specifically ideas and solutions for the lunar economy. The EMER-GEN program had three preparatory webinars to coordinate teams to start collaborating on their projects. Guest speakers in these webinars to provide background on the Artemis program and inspire ideas were Joe Cassady, Executive Director, Space, Aerojet Rocketdyne; and Bhavya Lal, Associate Administrator for Technology, Policy and Strategy & Acting Chief Technology Officer, NASA.
Maui-based Zachary Stein, The Boeing Company, added, "The Hackathon was great work. I really enjoy that type of task. We take an idea that can be realistic in the future. My team worked on a wireless power transmission concept for lunar operations."
The hackathon culminated with 5-minute pitch presentations by the eight teams to showcase their innovative solutions. The three judges to listen and evaluate the ideas and presentations were: Islam Hussein, Trusted Space; Paul Kervin, AFRL, retired; and Lisa Thompson, KBR.
Lisa Thompson, KBR, pointed out, "EMER-GEN is a wonderful program to bring young minds together to look at problems that the space industry has faced for years, but in different perspectives. Being a mentor and a Hackathon judge allowed me to see how the cohort collaborated on solutions that we can actually use to advance space technologies. We are also learning from them. The EMER-GEN program does that."
Tom Kubancik of Trusted Space who helped to develop the Hackathon challenge concluded, "The depth of the technical and international talent and inclusion at EMER-GEN and AMOS is amazing! MEDB provides a complete package, a whole program that they amazingly put together. The passion people have for both events is incredible. It has a year-long affect. I have watched the program grow. They have done such a great job. This industry is growing. The topics are more important each year, and MEDB is prepared for these challenges."
Ashten Akemoto, University of Hawaii, noted, "I am attending EMER-GEN on a scholarship, for which I am extremely grateful. My takeaway is how the mentorship and networking at this conference introduced me to so many professionals from such diverse fields. It truly helped broaden my horizon of the space industry. I am so thankful to MEDB for this opportunity."
Yosef Ben Gershom, Hawaii Space Flight Laboratory, said, "This was my second EMER-GEN. I like meeting and connecting with new people to see how we can continue in a collective future. MEDB offers opportunities and helps bring more of the space business and industry to Hawaii. It is great to watch it grow."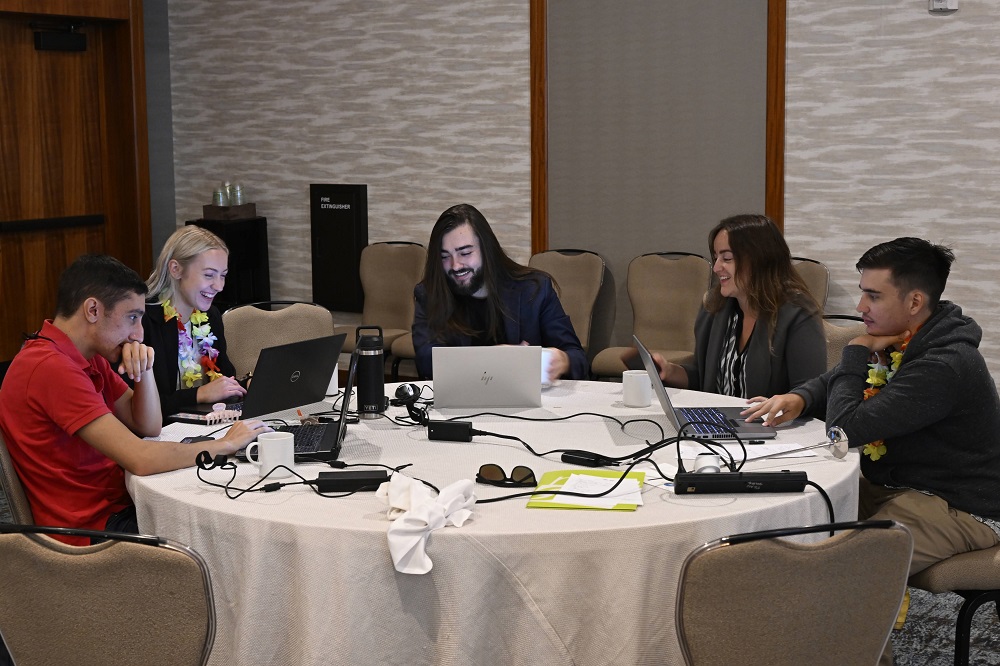 The joint initiative of the AMOS Conference and SGAC, the 2022 EMER-GEN Program was supported in part by an Economic Development Administration (EDA) grant as well as by Celestial sponsor, Millennium Space Systems, and Leo sponsors Kayhan Space and Trusted Space. EMER-GEN is open to young professionals and students enthusiastic about space with scholarships offered for Hawaii-based delegates.
SGAC, a global non-governmental, non-profit (US 501(c)3) organization and network, aims to represent university students and young space professionals to the United Nations, space agencies, industry, and academia. Headquartered in Vienna, Austria, the SGAC network of members, volunteers and alumni has grown to over 15,000 members representing more than 150 countries.