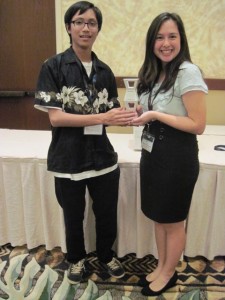 King Kekaulike High School students used their developing skills in science, technology, engineering and math (STEM) to help special needs students overcome a lack of fine-motor skills to create works of art. The project was one of the highlights at the Hawaii STEM Conference held May 2-3 at the Wailea Marriott Resort. "I really enjoy science. I really enjoy art, and STEM shows you that you can bring science and art together," said sophomore Maya Ooki. She and her classmates Jeremie Amano and junior Rosie Kulhavy-Sutherland made up King Kekaulike's Program Impact Assessment (PIA) Team. The team was tapped as the overall winner of the PIA competition at the conference.
Using 3D Computer Aided Design (CAD), senior A.J. Ramelb created a paintbrush using Solidworks – a 3D CAD program. The 3D CAD design was then printed with their 3D printer allowing Kekaulike's students with special needs to grip a paintbrush well enough to paint. "It was a really cool project because we used STEM to benefit our community," Ooki said. King Kekaulike students also won several of the conference software competitions – including the Hackathon competition, the on-site 3D CAD contest and the on-site video competition. Overall, the students from King Kekaulike's STEMworks lab were those who exemplified the qualities of a successful lab – high-tech resource integration, teamwork, service learning, professional skills, project development and community impact, among others. Each school team developed and gave a 10-minute presentation to judges, including five minutes for questions and answers. Students were judged on self-directed learning, critical thinking and problem solving, teamwork, resource integration, community involvement and collaboration.
The two-day conference drew more than 400 students and educators, and about 75 industry professionals. The event hosted representatives of some of the world's most innovative technology companies – Google, National Geographic Education, Apple for Education, Chevron and more. The conference's theme was "Innovate, Empower. Impact the World through STEM." Presented by the Maui Economic Development Board's Women in Technology Project, the statewide STEM conference allows students to have first-hand exposure to advanced in-demand technologies, the latest software training and real world challenges in the form of fun, hands-on team competitions. For more information visit http://womenintech.com/HawaiiSTEMConference/.