2017 Winners
Renezel Lagran
Lagran received a standing ovation after sharing her story about her struggles when first coming to Hawaii from the Philippines not knowing how to speak English; and how she was able to persevere and flourish as a result of her teachers, mentors, and MEDB who provided her with the confidence, tools and resources to succeed. Today, this MEDB STEMworks' alumna is one of the state's most highly innovative and successful STEM leaders winning multiple awards and recognition both locally and nationally.In addition, the teachers and school labs who inspired the award winner also received grant funds from the Daniel K. Inouye Innovation Award.
---
2016 Winners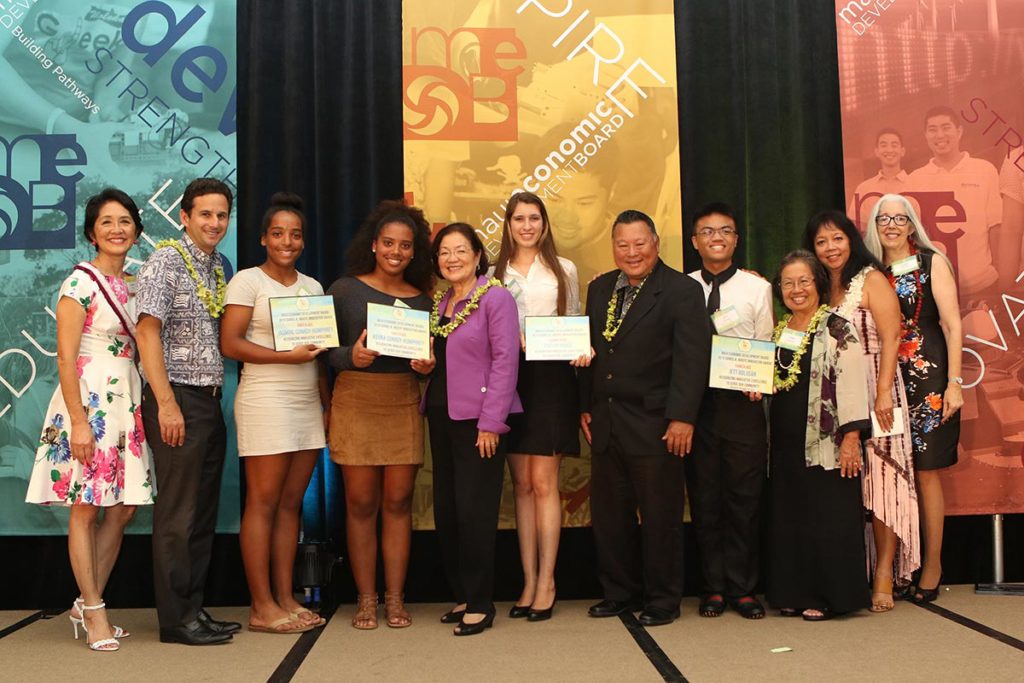 1st Place – Lanai Fire Hydrant Collection
The sister team of Jasmine and Keona Conroy-Humphrey from Lanai High School used Geospatial (GIS) software in their MEDB STEMworks™ lab project to locate, load in the collector app, and create an updated map of where fire hydrants are located on Lanai. The electronic map helps to support the Lanai Water Company and firefighters are able to geolocate the fire hydrants in a timely manner which will help to make Lanai a safer place. The sisters each received $3,000 in technology education tools of their choice and the Lanai High School STEMworks lab received $3,300.
2nd Place – Developing a pH Sensor Using a Raspberry Pi to Monitor Ocean Acidification
Evelyn Haase from Molokai High School invented a pH sensor that can measure accurate data detecting the tiniest changes to the Ocean pH due to environmental fluctuations. Not only did it improve accuracy, but it offered huge cost savings compared to the current systems available to marine scientists. Estimates are that her device is 1/42 of the price (which is about $200 to compared to $11,000 for today's technology costs) and requires half the maintenance. Evelyn received $2,000 to further her scientific research and educational pursuits and Molokai High School received $3,300 for improvements to their STEMworks™ lab.
3rd Place – Maui Bugpedia
The team of 2016 King Kekaulike High graduate Maya Ooki and Maui High senior Jett Bolusan, worked with Hawaiian Commercial & Sugar (HC&S) representatives, researched and compiled a comprehensive list of pests on Maui lands into a "Wikipedia-like" website entitled "Bugpedia." This online resource helps not only HC&S's plans for new crops, but can be used as a tool for all Maui farmers. Maya and Jett each received $1,000 to expand their STEM education, and Maya's teacher Emily Haines Swatek of King Kekaulike High School and Jett's teacher Keith Imada of Maui High School each received $1,700 for improvements to their respective STEMworks™ labs.
---
2015 Winners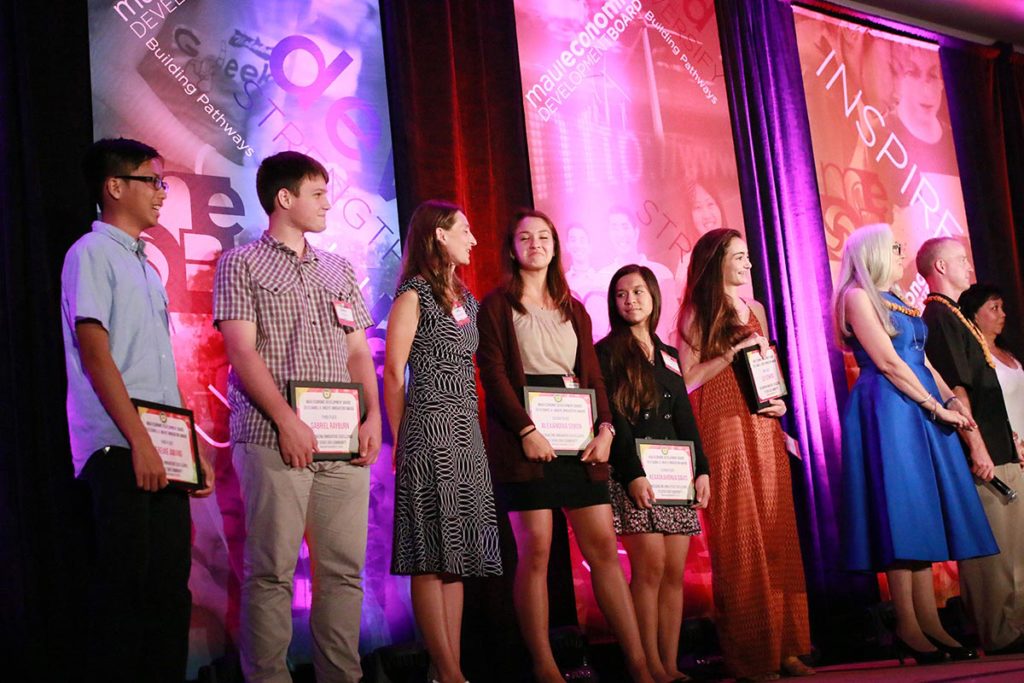 First Place – March of the Molokai Mangrove
The student sister team of Sarah Jenkins and Lily Jenkins used Geographic Information System software to interpret satellite data, aerial imagery, historic maps and coastal surveys to determine the extent to which red mangroves have migrated seaward on Molokai's south shore. Sarah and Lily were also able to analyze the mangroves' effects and predict their future impact on nearby reefs. Each sister received $2,000. In addition, their 8-year mentor Weldon Wichman received $2,000 for her environmental foundation and Molokai High School's STEM lab received $4,000 in technology upgrades and equipment.
Second Place – Investigating Agar Extraction from Gracilaria Salicornia
The student team of Amber K. "Momi Afelin, Kea`aokahonua Davis, and Alexandria H. Simon focused on finding viable ways to efficiently remove the highly invasive seaweed Gracilaria salicornia or Gorilla Ogo from Molokai's reefs. Each student received $1,000 each. Their teacher/mentor Scott Hemenway's Molokai High School STEM lab also received $3,000 in technology upgrades and equipment.
Third Place – Miscellaneous Report – A-Pest App
Jeremie Amano and Gabriel Rayburn developed an app that the public can use to send sightings of invasive species to MISC (Maui Invasive Specials Committee) using mobile Android devices. The student team received $500 each. In addition, their teacher Emily Haines-Swatek's King Kekaulike STEMworks lab received $3,000 in technology upgrades and equipment.
---
2014 Winner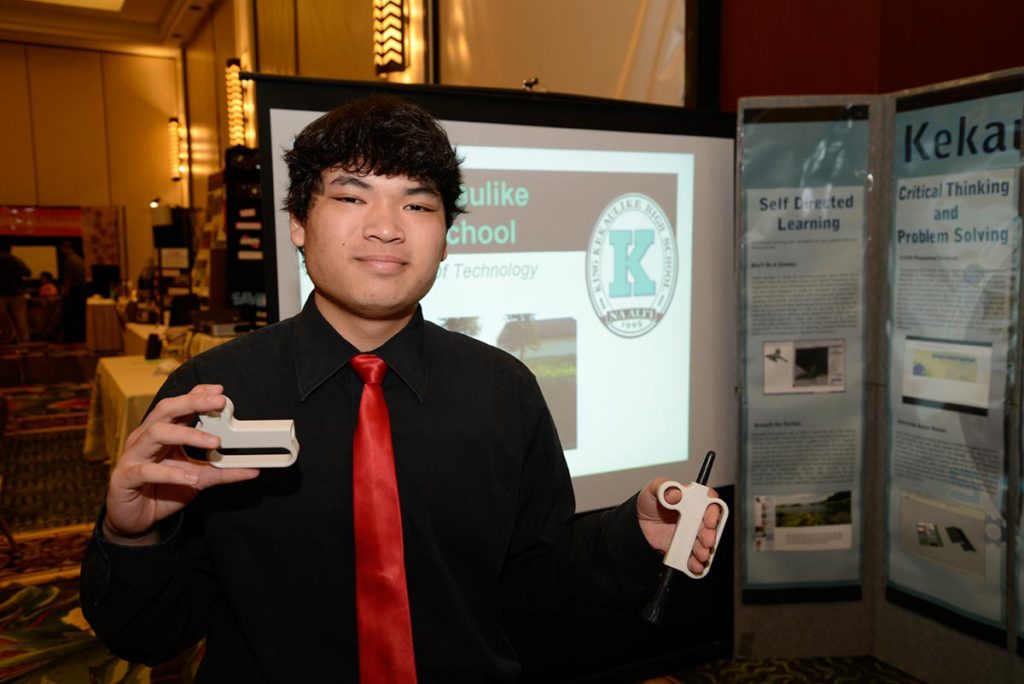 First Place – Paint Brush Grips
King Kekaulike High School graduate AJ Ramelb designed a solution that made it easier for King Kekaulike's special needs students to grip paintbrushes. Using 3D Computer Aided Design, he created a "brass knuckle" design for students with severe disabilities who are challenged with holding a paintbrush, even with assistance. AJ received a $3,000 cash award for his college education and $7,000 for his alma mater's STEMworks™ lab.